About Rolls Royce
Rolls-Royce is known for its unparalleled workmanship, luxury, and grace. This 1904-founded British auto and aerospace company has become an iconic brand and is renowned for building some of the best automobile and airplane engines ever manufactured.
The Rolls-Royce automobiles represent the pinnacle of automotive engineering and design. Each car is lovingly built from the finest components with attention to every last detail.
Rolls-Royce continues to push the limits while blending innovation and tradition. The business distinguishes out for its commitment to superb craftsmanship and traditional elegance. A Rolls-Royce purchase entails more than just purchasing a vehicle; it also entails committing to a refined and opulent lifestyle.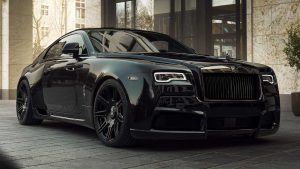 Detailed Case Study of Rolls Royce
A business's assortment of initiatives, or methods, for promoting its name or goods in the marketplace. It explains how the corporation has leveraged its pricing, location, product, and promotion methods to its advantage.
1-Product Strategy of Rolls Royce
Rolls-Royce bases its product strategy on exclusivity, unwavering excellence, and ongoing innovation. Rolls-Royce concentrates on producing a small selection of high-end luxury automobiles for affluent clients who expect the highest level of elegance and craftsmanship. They place a high value on personalization, enabling customers to fully customise their vehicles. A further focus for Rolls-Royce is cutting-edge technology, which is incorporated into their vehicles while keeping a classic design. This dedication to quality goes beyond autos as Rolls-Royce makes significant investments in R&D to create cutting-edge aircraft engines. Rolls-Royce has established themselves as a mark of elegance and sophistication in the automotive and aerospace industries by being steadfastly committed to its basic ideals.
2-Price Strategy of Rolls Royce
The renowned British luxury car maker Rolls-Royce has long been associated with class, fine craftsmanship, and exclusivity. Its pricing policy demonstrates its dedication to upholding a sense of exclusivity and establishing itself as the pinnacle of automotive luxury. With high initial prices for their cars, Rolls-Royce uses a skimming pricing strategy to appeal to a select group of wealthy consumers wanting unmatched luxury and distinction. By employing this tactic, Rolls-Royce is able to capitalise on its brand recognition and uphold a sense of luxury. Additionally, Rolls-Royce uses value-based pricing, defending its exorbitant prices with its superior workmanship, cutting-edge technology, and bespoke customisation possibilities. Rolls-Royce makes sure that owning one of its vehicles continues to be a symbol of wealth and refinement by carefully developing its pricing strategy.
3-Promotion Strategy of Rolls Royce:
The prestigious luxury vehicle company Rolls-Royce has a painstakingly designed promotion plan to uphold its air of exclusivity and appeal to its wealthy target demographic. The business concentrates on placing targeted advertisements in upscale periodicals, luxury lifestyle publications, and on digital platforms that its potential clients use. To expose its automobiles to affluent customer, Rolls-Royce carefully collaborates with opulent occasions, runway presentations, and high-profile social gatherings. Through aesthetically striking commercials and engrossing storytelling, the brand highlights the personalised customization choices, flawless workmanship, and cutting-edge technology of its automobiles. Rolls-Royce efficiently communicates its brand values, arouses desire, and fosters aspiration among its discriminating audience by utilizing these strategies.
4-Competitors of Rolls Royce:
The gold standard for extravagance and grandeur has long been Rolls-Royce, the pinnacle of vehicle luxury. However, other deserving rivals have emerged, fighting for the attention of discerning buyers in the extremely competitive market of high-end automobiles. One of Rolls-Royce's fiercest rivals is the prestigious British brand Bentley. Bentley automobiles provide an appealing choice for people looking for luxury and elegance thanks to their fine craftsmanship and attention to detail. The performance and fashion brand Aston Martin poses yet another severe obstacle for Rolls-Royce. Car lovers all over the world are captivated by their beautiful designs and potent engines. A combination of German engineering and opulence is also being offered in the premium market by German automakers like Mercedes-Benz and its Maybach brand.To know more about the company click here
Conclusion:
In conclusion, Rolls-Royce is still a recognisable brand that represents unmatched luxury, elegance, and craftsmanship. The business stands out in the automotive sector thanks to its dedication to excellent engineering, meticulous attention to detail, and creative design. Rolls-Royce continues to serve the affluent clientele that seeks the pinnacle of luxury and refinement with a focus on exclusivity and personalised personalization. While the brand's promotion campaign successfully conveys its ideals and encourages aspiration among its target audience, the brand's pricing plan indicates its commitment to preserving an image of exclusivity. Rivals like Bentley, Aston Martin, and Mercedes-Maybach push Rolls-Royce to continuously innovate and improve its offers as the rivalry heats up. However, Rolls-Royce's heritage and persistent dedication to quality guarantee its status as a benchmark for luxury in the automobile industry. For more case studies about brand, you can click here